Summary
Current Position: US Representative of PA District 16 since 2011
Affiliation: Republican
Former Position: Retail Automotive from 1970 – 2010
Other Positions:  
Ranking Member, Subcommittee on Oversight – House Committee on Ways and Means
Featured Quote: 
The IRS should be a resource, not an adversary. But how can an agency that fails to process returns, leaks private records, and punishes groups for their religious beliefs, be anything other than an adversary? We must ensure the IRS serves Americans, not the other way around.
Featured Video: 
Rep. Mike Kelly on Pennsylvania Reopening, Hydroxychloroquine and COVID-19 Recovery | The View
Source: Government page
News
Washington, D.C – U.S. Representative Mike Kelly (R-Pa.) today joined fellow members of the Republican Study Committee for a press conference to rally the American people against the Democrats' $3.5 trillion budget proposal.
The budget resolution, which passed the Senate earlier this month and the House of Representatives today shortly after this press conference, calls for $3.5 trillion of new federal spending. It does not include the $1.2 trillion infrastructure bill that is likely to become law or the $6.8 trillion already projected to be spent in FY 2021.
The Democrats will now begin the budget reconciliation process where committees will write legislation pursuant to the budget resolution's instructions. If all $3.5 trillion is successfully enacted, the federal government will spend approximately $11.5 trillion in one year alone.
After unaccompanied children were held in a converted sports hall in Erie for nearly two weeks last month, U.S. Rep Mike Kelly, R-Butler, is heading to the southern U.S. border with Mexico to "find out the starting place for all this."
Mr. Kelly acknowledged he generally does not view immigration as a top issue in his district, which spans northwestern Pennsylvania. But after the U.S. Department of Health and Human Services announced on April 13 that about 150 children had arrived in an emergency intake facility in Erie, Mr. Kelly said he feels like he needs to go to McAllen, Texas, and see the ports of entry firsthand.
Twitter
About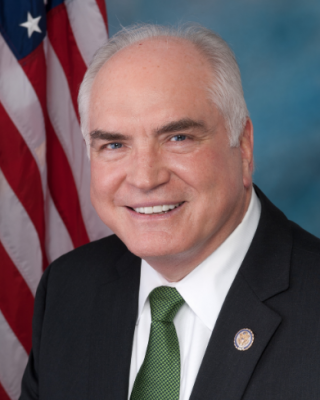 Source: Government page
Mike Kelly was born in Pittsburgh and raised in Butler, Pennsylvania, where he has lived for more than 50 years. After graduating from Butler High School in 1966, Mike attended the University of Notre Dame on a football and academic scholarship. After college, Mike moved back to Butler to work at Kelly Chevrolet-Cadillac, Inc., a company founded by his father in the early 1950s. Mike took ownership of the dealership in the mid-1990s and expanded its operations to include Hyundai and KIA franchises.
As The Washington Post put it:
Kelly first got the itch to run for Congress in 2009, after the federal government took over General Motors. Kelly Motors has been in his family since his father started the business in 1953. In spring 2009, Kelly said, GM managers reviewed his Chevrolet-and-Cadillac dealership and concluded it was "perfect."
"Then they went to Washington and they got fired," Kelly said.
Under the government restructuring, he could sell Chevrolets but not Cadillacs.
"Wait, wait, wait!" Kelly said he told a GM representative. "This is America. You can't come in and take my business away from me. . . . Every penny we have is wrapped up in here. I've got 110 people that rely on me every two weeks to be paid. . . . And you call me up and in five minutes try to wipe out 56 years of a business?"
"'This is a new General Motors,'" Kelly recalled the man telling him. "'That's just the way it is.'"
Kelly went to arbitration and eventually won.
Fueled by his victory, Mike successfully ran for Congress the following year to take the fight to Washington and the rest, as the saying goes, is history.
Back in Butler, Mike's auto dealerships currently employ more than 100 people from the region, and are leaders in the local and national automotive industry. Mike has served as Chairman of the Hyundai Eastern Region Dealer Council, Vice Chairman of the Hyundai National Dealer Council, and has sat on the boards of the Chevrolet Dealers Advertising Association of Pittsburgh and the Cadillac Consultants of Western Pennsylvania. Additionally, Mike is a former Secretary and Treasurer of the Hyundai "Hope on Wheels" initiative, which has donated more than $145 million to childhood cancer research institutions nationwide. He continues to work with the organization as a lawmaker.
Prior to entering Congress, Mike served on the Butler City Council and sat on the boards of several local and civic organizations, including the Housing Authority of Butler County, the Redevelopment Authority of Butler County, and the Moraine Trails Council of Boys Scouts of America. In recognition of Mike's extensive volunteer and charitable work, Catholic Charities awarded him its Mary DeMucci Award. The Mayor of Butler designated October 26, 2001, as "Mike Kelly Day" for his commitment to his hometown.
Dedicated to improving education, Mike founded the Butler Quarterback Club and The Golden Tornado Scholastic Foundation, each of which provides unique and innovative educational programs for students in the Butler Area School District. Mike and his wife, Victoria, a former elementary school teacher, also established the Mary McTighe Kelly Creative Teaching Grant for elementary educators and the Lighthouse Foundation's One Warm Coat Program, which has helped collect hundreds of winter coats for students in need in the Butler community.
Mike and Victoria have four children and are the proud grandparents of ten wonderful grandchildren. Mike's family and friends were with him on January 5, 2011, when he was sworn into office as the U.S. Representative of the Third Congressional District of Pennsylvania. Since January 3, 2019, Rep. Kelly has proudly represented Pennsylvania's 16th Congressional District.
Mike is constantly honored and humbled to represent the values, interests, and concerns of the 16th District, especially as they relate to his work on the House Ways and Means Committee and his role as Ranking Member of the Subcommittee on Oversight. He is proud to be considered a leader among his colleagues as he serves as the Republican chairman of the Congressional Korea Caucus, the House Automotive Caucus, the Childhood Cancer Caucus, the House Retirement Security Caucus, the Health Care Innovation Caucus, and the House Small Brewers Caucus. He is also an appointed member on the President's Export Council.
The Pittsburgh Tribune-Review refers to Mike as a "no-nonsense, straight-talking Republican" and "a true man of the people." According to CQ Roll Call, "Any encounter with Kelly has the potential to erupt into a pep rally" thanks to his "gift for enthusiastic – and rapid-fire – communication." The popular website Breitbart.com calls Mike "a fierce defender of conservatism on Capitol Hill." Fox News Channel's Neil Cavuto calls him "a key player" and "a mover and shaker" in the U.S. House of Representatives.
Mike's rousing speeches on the floor of the House and at Ways and Means committee hearings have together earned more than 3 million views on YouTube. When he delivered the weekly Republican address to the nation right before Christmas 2014 (in which he offered President Obama a lump of coal for Christmas), it quickly became the most watched GOP weekly address of all time.
During his time in the House, Mike has appeared on numerous national television programs, including ABC's This Week, CBS's Face the Nation, CNN's The Situation Room, and Fox News' Hannity, The Kelly File, Tucker Carlson Tonight, Fox & Friends, and many others. Opinion features written by Mike have been published by The Wall Street Journal, TIME, USA TODAY, The Washington Times, the Pittsburgh Tribune-Review, the Pittsburgh Post-Gazette, Erie Times-News, RealClearPolitics, National Review Online, The Huffington Post, CNN.com, FoxNews.com, and many other newspapers and websites.
Voting Record
Caucuses 
The Congressional Pro-Life Caucus
The Congressional Steel Caucus
The Congressional Propane Caucus (founding member)
The Congressional Manufacturing Caucus
The House Marcellus Shale Caucus
The House Automotive Caucus (co-chairman)
The Congressional Coal Caucus
The Congressional Diabetes Caucus
The House Job Creators Caucus
The Health Care Innovation Caucus (founding co-chairman)
The House Natural Gas Caucus
The House Small Brewers Caucus (co-chairman)
The Congressional Sportsman's Caucus
The Congressional Prayer Caucus
The Congressional Caucus on Korea (co-chairman)
The Congressional Caucus on Foster Youth
The Congressional Services Caucus
The Congressional Childhood Cancer Caucus (co-chairman)
The Congressional China Caucus
The Congressional Taiwan Caucus
The House Retirement Security Caucus (co-chairman)
The Republican Study Committee
The Congressional Candy Caucus
The Northeast-Midwest Congressional Coalition (former co-chairman)
Offices
Sharon
33 Chestnut Avenue
Sharon, PA 16146
Phone: (724) 342-7170
Fax: (724) 342-7242
Hours: Monday through Friday, 9 a.m. to 5 p.m.
Erie
208 E. Bayfront Parkway, Suite 102
Erie, PA 16507
Phone: (814) 454-8190
Fax: (814) 454-8197
Hours: Monday-Friday 9:00AM-5:00PM
Washington, DC
1707 Longworth House Office Building
Washington, DC 20515
Phone: (202) 225-5406
Fax: (202) 225-3103
Hours: Monday-Friday 9:00AM-5:00PM Eastern time
Contact
Email:
Web
Government Page, Campaign Site, Twitter, YouTube, Facebook, Wikipedia
Politics
Source: none
Campaign Finance
Voting Record
VoteSmart – National Key Votes & Ratings
Search
Wikipedia Entry
George Joseph "Mike" Kelly Jr. (born May 10, 1948) is an American politician and businessman who has been a U.S. representative since 2011 and is currently serving as representative for Pennsylvania's 16th congressional district.[1] The district, numbered as the 3rd district from 2011 to 2019, is based in Erie and stretches from the northwest corner of the state to the outer northern suburbs of Pittsburgh.
A member of the Republican Party, he is known for his support of Donald Trump, characterizing the 2019 effort to impeach Trump as being akin to Pearl Harbor and filing a lawsuit in state court to invalidate all mail-in ballots cast in Pennsylvania during the 2020 United States presidential election.
On October 22, 2021, it was reported that a congressional ethics watchdog has recommended subpoenaing Kelly for an ethics violation after it was revealed that his wife had purchased stock in an Ohio-based steel company in April 2020 after Kelly had received confidential information about the company.[2] In June, 2022, Wisconsin Senator Ron Johnson revealed that Kelly was responsible for providing a slate of fake electors that was meant to overturn the will of Pennsylvania voters in the 2020 election. Kelly's office has denied his role in this event.[3]
Education and early career
Kelly was born on May 10, 1948, in Pittsburgh,[4] but has spent most of his life in the outer northern suburb of Butler. He attended the University of Notre Dame.[5]
Automotive business
After college, he worked for his father's Chevrolet/Cadillac car dealership. In 1995, he took over his father's business, and then added Hyundai and KIA to his dealership lineup.[6]
In March 2019, a local TV station discovered that there were 17 vehicles for sale on Kelly's Uniontown and Butler lots which were the subject of recall notices, but they had not been repaired. The station contacted both the businesses and the congressman's office without receiving responses.[7] A month later, a reporter found three of those vehicles with active recalls still for sale.[7] In November 2015, Kelly had spoken on the floor of Congress in support of a bill that would have given permission to dealers to loan or rent vehicles despite there being National Highway Traffic Safety Administration (NHTSA) safety recall notices on such vehicles. Kelly had said, "There is not a single person in our business that would ever put one of our owners in a defective car or a car with a recall. But that could happen. That could happen." The congressional bill failed to pass.[7]
Kelly's car dealerships received Paycheck Protection Program loans of between $450,000 and $1.05 million to keep staff on the payroll during the coronavirus pandemic.[8]
United States House of Representatives
Elections
2010
Kelly challenged incumbent Rep. Kathy Dahlkemper in 2010.[9] He won the election by 10%,[10] largely by running up his margins outside of heavily Democratic Erie.
2012
Kelly defeated Democrat Missa Eaton 55%–41%.[11] His district had been made slightly friendlier in redistricting. The district was pushed slightly to the south, absorbing some rural and Republican territory east of Pittsburgh. At the same time, eastern Erie County was drawn into the heavily Republican 5th district. The 3rd and 5th were drawn so that the boundary between the two districts was almost coextensive with the eastern boundary of the city of Erie.
2014
Kelly defeated Democrat Dan LaVallee of Cranberry Township 60.5%–39.5%.[12]
2016
Kelly ran unopposed and received 100% of the vote.
2018
After the Pennsylvania Supreme Court threw out Pennsylvania's original congressional map in February 2018, Kelly's district was renumbered as the 16th and made slightly more compact. It regained the eastern portion of Erie County that had been drawn into the 5th. To make up for the increase in population, its southern portion was pushed to the west, leaving Kelly's hometown of Butler just barely inside the district.[13]
PoliticsPA wrote that the new 16th was far less safe for Kelly than the old 3rd, citing a Public Policy Polling poll showing Kelly with a 48% to 43% lead over Democratic opponent Ron DiNicola, below the threshold to be considered safe for a fourth term.[14] Additionally, while Trump carried the old 3rd with 61 percent of the vote,[15] he would have carried the new 16th with 58 percent of the vote.[16] However, Nate Cohn of The New York Times had suggested earlier that Kelly would have been in more danger had the 16th absorbed more Democratic-leaning territory northwest of Pittsburgh. Ultimately, much of this territory had been drawn into the reconfigured 17th district (the former 12th district).[13]
Kelly ultimately defeated DiNicola 51.6%–47.2%, his first close contest since his initial run for the seat.
2020
Kelly defeated Democrat Kristy Gnibus of Erie 59.34%–40.66%, an improvement over his performance in 2018. Kelly received 210,088 votes to Gnubus's 143,962.[17] He likely got coattails from Trump, who carried the district with 59 percent of the vote.[16]
Committee assignments
Caucus memberships
Northeast-Midwest Congressional Coalition[18]
Tenure
Conservative Political Action Conference attendance
In late February 2021, Kelly and a dozen other Republican House members skipped votes and enlisted others to vote for them, citing the ongoing COVID-19 pandemic. However, he and the other members were actually attending the Conservative Political Action Conference, which was held at the same time as their slated absences.[20] In response, the Campaign for Accountability, an ethics watchdog group, filed a complaint with the House Committee on Ethics and requested an investigation into Kelly and the other lawmakers.[21]
Debt forgiveness
During the COVID-19 pandemic, Kelly's auto dealerships received loans from US taxpayers of over $970,000 as part of the Paycheck Protection Program (PPP); the loans were later forgiven.[22][23][24][25] U.S. Representative Katie Porter later introduced legislation that would require all loans under the PPP to be made public.[26][27] Kelly voted against the TRUTH Act (H.R. 6782), a bill that would have required public disclosure of companies that received funds through the bailout program.[28][29] As of August 2022, Kelly opposes President Joe Biden's proposal to forgive $10,000 of student debt for individuals making up to $125,000 per year.[30] Kelly's net worth was estimated to be $12.4 million in 2018.[31]
"Deep state" conspiracy theories
When speaking at a Mercer County Republican Party event in 2017, Kelly advanced the conspiracy theory that former president Barack Obama was running a "shadow government" to undermine President Trump.[32][33][34] When asked about these remarks, Kelly said that they were meant to be private.[32][35] After the remarks made national news, Kelly's spokesperson said that Kelly did not believe that Obama "is personally operating a shadow government".[32][33][34]
Donald Trump
Kelly has argued against the release of President Donald Trump's tax returns by the House Ways and Means Committee.[36]
In December 2019, Kelly likened Donald Trump's first impeachment to the Attack on Pearl Harbor.[37] He said the date in which Trump was impeached is "another date that will live in infamy," referring to President Franklin Delano Roosevelt's December 1941 statement about the Pearl Harbor attack.[37]
Amid ballot counting in the 2020 election, Kelly filed a lawsuit to stop Pennsylvania from allowing voters to "cure" (fix mistakes on) their ballots.[38] After Joe Biden won the Commonwealth of Pennsylvania, Kelly filed a suit arguing that all mail-in ballots cast in the state (more than 2.5 million) should be discarded, which would result in flipping the state to Donald Trump.[39] Or if that was not possible, that the electors for president should instead be chosen by the Republican controlled legislature.[40] If successful, this suit would have retroactively disenfranchised millions of voters in the Pennsylvania election.[40] However, on November 28, 2020, the Pennsylvania Supreme Court unanimously rejected Kelly's suit, additionally ruling to "dismiss with prejudice."[41]
In December 2020, Kelly was one of 126 Republican members of the House of Representatives who signed an amicus brief in support of Texas v. Pennsylvania, a lawsuit filed at the United States Supreme Court contesting the results of the 2020 presidential election, in which Joe Biden prevailed[42] over incumbent Donald Trump. The Supreme Court declined to hear the case on the basis that Texas lacked standing under Article III of the Constitution to challenge the results of the election held by another state.[43][44][45]
Economy
In March 2021, all House Republicans including Kelly voted against the American Rescue Plan Act of 2021, a $1.9 trillion coronavirus relief bill.[46]
Healthcare
On August 1, 2012, Kelly called the HHS mandate of the Patient Protection and Affordable Care Act (Obamacare) – which requires health insurers or employers that provide their employees with health insurance to cover some contraceptive costs in their health insurance plans – an attack on Americans' constitutionally protected religious rights and that August 1, 2012, would go down in infamy as "the day that religious freedom died".[47]
LGBT rights
In 2015, Kelly cosponsored a resolution to amend the US constitution to ban same-sex marriage.[48] In 2022, Kelly was one of 157 Republicans to vote against a bill protecting same-sex and interracial marriage. [49]
Personal life
Kelly lives in Butler, Pennsylvania, with his wife Victoria. They have four children, George III, Brendan, Charlotte, and Colin, and ten grandchildren.[50] He is the brother-in-law of retired Congressman Phil Roe of Tennessee's 1st congressional district. He is Catholic.[51] In 2019 he stated that, as a person of Irish and Anglo-Saxon descent, he considers himself a person of color—a term often used to describe people of non-white backgrounds.[52] On March 27, 2020, he tested positive for COVID-19.[53]
References
External links
Issues
Source: Government page
Committees
House Committee on Ways and Means – Ranking Member, Subcommittee on Oversight
The Committee on Ways and Means is the oldest committee of the United States Congress, and is the chief tax-writing committee in the House of Representatives. The Committee derives a large share of its jurisdiction from Article I, Section VII of the U.S. Constitution which declares, "All Bills for raising Revenue shall originate in the House of Representatives." To read more, click here.
Subcommittee on Health: The jurisdiction of the Subcommittee on Health shall include bills and matters referred to the Committee on Ways and Means that relate to programs providing payments (from any source) for health care, health delivery systems, or health research.  More specifically, the jurisdiction of the Subcommittee on Health shall include bills and matters that relate to the health care programs of the Social Security Act (including titles V, XI (Part B), XVIII, and XIX thereof) and, concurrent with the full Committee, tax credit and deduction provisions of the Internal Revenue Code dealing with health insurance premiums and health care costs.
Subcommittee on Oversight: The Oversight Subcommittee assists the full Committee in carrying out its general oversight responsibilities of matters within the scope of the full Committee's jurisdiction. The Oversight Subcommittee works with the full Committee and other Subcommittees to determine whether the laws within the jurisdiction of the Committee (including tax, trade, health, Human Resources, and Social Security laws) are being implemented and carried out efficiently and in accordance with Congressional intent. The Oversight Subcommittee also provides oversight of the federal agencies (such as the Internal Revenue Service) responsible for implementing laws within the full Committee's jurisdiction.
Rep. Kelly is an appointed member of the President's Export Council. To learn more, click here.
Legislation
Issues