Summary
Current Position: US Representative of PA District 4 since 2019
Affiliation: Democrat
Former Position: State Delegate from 2012 – 2018
Featured Quote: 
Last weekend marked a year since we lost John Lewis. Many people, rightfully, used their platforms to memorialize this giant. But, what action are you taking to honor his life's work? More than 17 states have implemented voter suppression laws. Congress must take action.
Featured Video: 
Rep. Dean on why the Senate should convict Trump | Second Trump impeachment trial
Source: Government page
News
Washington, D.C. – Today, House Democrats introduced the Protecting Our Democracy Act — a sweeping package of reforms that will strengthen America's democratic institutions against future presidents, regardless of political party, who seek to abuse the power of their office for corrupt purposes. This package includes Rep. Dean's Congressional Subpoena Compliance and Enforcement Act introduced last year.
The comprehensive proposals — many of which have been supported by both Democrats and Republicans in the past — will restore the government's system of checks and balances, strengthen accountability and transparency, and protect America's elections from foreign interference.
The Protecting Our Democracy Act was first introduced during the 116th Congress, and reflects Congress' determination to restore the guardrails of our democratic systems. This year, the bill also stands as the third pillar of the 117th Congress' efforts to protect, support, and restore the people's faith in America's democratic systems — complementing both H.R. 1, the For the People Act, and H.R. 4, the John Lewis Voting Rights Advancement Act.
Twitter
About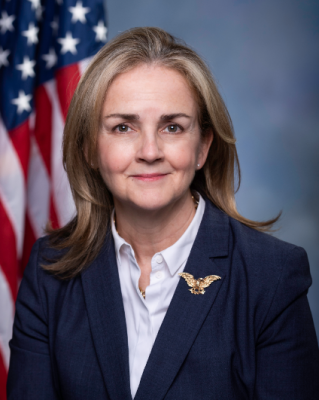 Source: Government page
Madeleine is a mother, grandmother, Professor, lawyer, and advocate representing Pennsylvania's 4th Congressional District of Berks and Montgomery Counties.
Born and raised in Glenside, Pennsylvania, to Bob and Mary Dean, Madeleine got her start in politics around the dinner table with her five older brothers and one older sister. She graduated from Abington High School, and at age 18 won the election to serve as a local committee-person.
Madeleine was sworn into Congress in 2018 as a part of the most diverse freshman class in history – and brought female representation back to Pennsylvania. Having cosponsored over 400 pieces of legislation during her first term – she has used her voice in Congress to advocate for and champion forward-thinking priorities such as education, universal access to healthcare, gun safety, and ethical government to support the lives of her constituents.
As a leader, Madeleine has sponsored several critical pieces of legislation – including the STOIC Act, a bipartisan bill signed into law that provides mental health and suicide prevention resources for first responders. She has voted on critical legislation to better the lives of Americans including H.R. 8 – the Bipartisan Background Checks Act of 2019, H.R. 5 – the Equality Act, and H.R. 9 – the Climate Action Now Act, among others.
Serving on the House Judiciary Committee and House Financial Services Committee, Madeleine is committed to oversight and accountability of all elected officials and government agencies – recognizing the importance of good governance and public trust.
In Congress, Madeleine serves on numerous caucuses. She was elected as Vice Chair of the Bipartisan Women's Caucus – demonstrating her dedication to working with colleagues across the aisle to find solutions that benefit her constituents. She is a founding member of the Bipartisan PFAS Taskforce, which focuses on addressing toxic forever chemicals in our communities and across the country. She is also regional vice-chair of the Democratic Congressional Campaign Committee (DCCC), working to elect more Democrats to Congress.
Madeleine has been focused on serving her constituents since her time in the Pennsylvania State House. During her time as a State Legislator, Madeleine worked closely with her staff to service tens of thousands of constituent casework with problems big and small. Refusing to say no to those in need, this service has continued into her Congressional work. During her first 12 months in Congress, Madeleine closed 1,400 constituent service cases– among the highest number of closed constituent cases out of all the freshman House Democrats.
A lifelong parishioner of St. Luke the Evangelist Church in Glenside – Madeleine's commitment to service comes as part of her Catholic faith in the social justice tradition of St. Vincent de Paul.
Madeleine is a graduate of La Salle University and Delaware Law School of Widener University. She practiced law in a small Philadelphia firm and with the Philadelphia Trial Lawyers Association, eventually serving as executive director. Madeleine returned to La Salle University, teaching composition, persuasive writing and rhetoric, business writing, legal writing, and ethics for 10 years before serving as Abington Township commissioner, and then in the Pennsylvania State House.
Madeleine and her husband PJ Cunnane live in Jenkintown, Abington Township, and have three grown sons – Patrick, Harry and Alex; two daughters-in-law – Stephanie and Juliet; and two granddaughters and one grandson – Aubrey, Ella, and Sawyer.
Voting Record
Caucuses 
Progressive Caucus
New Dems
Ukraine Caucus
Gun Violence Prevention Task Force
Freshmen Working Group on Addiction
Equality Caucus
Bipartisan Women's Caucus – Vice Chair
Offices
115 E Glenside Ave, Suite 1
Glenside, PA 19038
Phone: 215-884-4300
Fax: 215-884-3640
101 E. Main Street, Suite A
Norristown, PA 19401
Phone: 610-382-1250
Fax: 610-275-1759
WASHINGTON, DC
Contact
Email:
Web
Government Page, Campaign Site, Twitter, YouTube, Facebook, Wikipedia
Politics
Source: none
Campaign Finance
Voting Record
VoteSmart – National Key Votes & Ratings
Search
Wikipedia Entry
Madeleine Dean Cunnane (born June 6, 1959) is an American lawyer and politician serving as the U.S. representative[1] for Pennsylvania's 4th congressional district.[2] The district includes almost all of Montgomery County, a suburban county north of Philadelphia. Before being elected to Congress, Dean was a Democratic member of the Pennsylvania General Assembly, representing the 153rd district[3][4] in the Pennsylvania House of Representatives.
Early life and education
The youngest of seven children, Madeleine Dean was born to Bob and Mary Dean in Glenside, Pennsylvania. She graduated from Abington Senior High School.[4] She graduated magna cum laude from La Salle University, and earned her Juris Doctor at the Widener University Delaware Law School. She also studied politics and public service at the Fels Institute of Government of the University of Pennsylvania.[5]
Career
After law school, Dean returned to the Philadelphia area and practiced law with the Philadelphia Trial Lawyers, going on to serve as executive director. She then opened a small, three-woman law practice in Glenside, and served as in-house counsel for her husband's growing bicycle business.[6]
While raising three young sons, Dean turned to teaching. She served 10 years as an assistant professor of English at her alma mater, La Salle University, in Philadelphia, where she taught writing and ethics.[6][7]
Early political career
Dean got her start in politics soon after graduating from high school, when she was elected to an Abington Township committee seat.[8]
She volunteered on her first campaign, for Joe Hoeffel's reelection to the state legislature, in the same district seat she later held. On that campaign she met her future husband, Patrick Cunnane, then a 19-year-old elected committee-person.
Pennsylvania House of Representatives
Having worked and volunteered in politics for decades, and her children grown, Dean was asked to become a public servant herself, serving as Abington Township commissioner, and ran for state representative in 2012.[9] In the State House, she prioritized social issues such as addiction, equal rights, access to healthcare, ethics, criminal justice reform, and gun violence.
After the Sandy Hook Elementary School shooting, Dean and Dan Frankel co-founded the gun violence prevention caucus, PA SAFE Caucus. The caucus is a self-described coalition of legislators and advocates dedicated to curbing the sale of illegal guns.[10]
In 2015, Dean was appointed to the Governor's Commission for Women,[11] a commission designed to advise the governor on policies and legislation that promote equality issues ranging from sexual assault to business initiatives.[11] In 2017, she was elected chair of the Southeast Delegation of the Pennsylvania House Democrats, composed of 22 House Democrats representing nine counties.[12]
She served on several committees, including Appropriations, Judiciary, Policy, Urban Affairs, State Government, and Finance, of which she was vice-chair.[4]
Dean stated in 2014: "We know that the number one issue with voters is education and how we fund our public schools". Regarding the Pennsylvania education budget for 2013, the then-state Representative said: "How we educate our kids tells us how our economy will be." In that same instance, she highlighted the issue of public school funding.[13]
U.S. House of Representatives
Elections
2018
In February 2018, after a significant change in Pennsylvania's congressional districts mandated by the Supreme Court of Pennsylvania, Dean announced she would end her campaign for lieutenant governor and instead run for Congress in the 4th district.[14] The district had previously been the 13th, represented by two-term fellow Democrat Brendan Boyle. But the 13th's share of Philadelphia, including Boyle's home, was drawn into the 2nd district, and Boyle opted to run for reelection there.
On May 15, Dean defeated two challengers, Shira Goodman and former Congressman Joe Hoeffel, in the Democratic primary.[15] In the general election she defeated Republican Dan David with 63.45% of the vote to his 36.55%.[16] She was one of four Democratic women elected to Congress from Pennsylvania in 2018. The others were Mary Gay Scanlon, Chrissy Houlahan and Susan Wild. The state's delegation had previously been all male.
2020
Dean ran for reelection and defeated the Republican nominee, military veteran and political commentator Kathy Barnette,[17] with 59.5% of the vote to Barnette's 40.5%.[18]
Tenure
On January 12, 2021, Dean was named a manager for the second impeachment of Donald Trump.[19]
Committee assignments
Caucus memberships
Electoral history
Other political campaigns
Lieutenant governor
In November 2017, Dean announced her candidacy for lieutenant governor of Pennsylvania, facing, among others, incumbent Mike Stack in the Democratic primary.[23] She dropped out to run for Congress.
Personal life
Dean lives in Abington Township (with a Jenkintown address), with her husband, Patrick "P.J." Cunnane. Cunnane is an entrepreneur in the bicycle industry and managed Advanced Sports International. They have three grown sons and three grandchildren. Her son, Pat, was senior writer and deputy director of messaging in the Obama administration.[24]
See also
References
External links
Issues
Source: Government page
Committees
House Judiciary Committee
Subcommittee on Crime, Terrorism, and Homeland Security
Subcommittee on the Constitution, Civil Rights and Civil Liberties
House Financial Services Committee
Subcommittee on Oversight and Investigations
Subcommittee on Diversity and Inclusion
Legislation
Learn more about legislation sponsored and co-sponsored by Representative Dean.
Issues