Summary
Current Position: US Representative of PA District 13 since 2019
Affiliation: Republican
Former Position: MD-Dermatologist
Featured Quote: 
As a doctor, I am aware of the need to secure patients' personal medical information – and we must act now to ensure that medical records are safe and personal information stays private.
Featured Video: 
Rep. John Joyce: Impeachment inquiry is a sham
Source: Government page
News
i
Photo Gallery
Videos
eNewsletters
Social Media
Editorials/Op-eds
Speeches & Floor Statements
U.S. Rep. John Joyce, R-Blair, strode into a tidy pharmacy here on Tuesday to praise the workers who were struggling to convince people to get the COVID-19 vaccine amid rising cases and swirling conspiracy theories that had prompted a desperate Facebook plea from a local pharmacist.
"You're going to continue to be on the front line. You know that," Mr. Joyce said, talking shop about the science of immunity and the new therapeutics under development. He called the vaccine the "pathway" to getting back to normal.
Twitter
About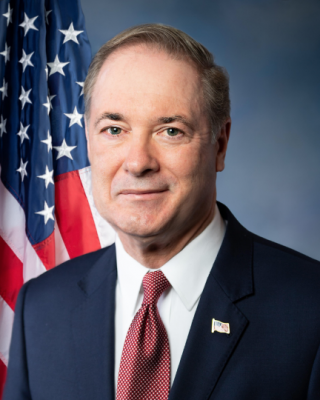 Source: Government page
Dr. John Joyce lives in Blair County with his wife, Alice. He was born in Altoona, Pennsylvania to Bernie and Peggy (Hallinan) Joyce, the third generation of the Joyce family to be born and raised in Altoona.
A graduate of Bishop Guilfoyle High School, John attended Penn State Altoona for two years, and then continued his undergraduate education at Penn State University Park. He graduated with honors with a degree in biology in 1979. John continued his education at Temple University receiving his M.D. in 1983.
Subsequently, he completed a 3 year internal medicine residency as a Johns Hopkins fellow in Baltimore, Maryland. He then completed a residency in Dermatology at Johns Hopkins finishing as chief resident. Dr. Joyce is a fellow in the American College of Physicians and the American Academy of Dermatology.
Congressman Joyce has served on the Advisory Board of the Penn State Altoona Campus, the American Cancer Society, The United Way, the Goodman Trust, as a mentor for the Eberly College of Science at Penn State, and as a volunteer at the St. Vincent DePaul Soup Kitchen. He is a lifelong member of the Cathedral in Altoona.
He was elected to serve as the U.S. Representative for Pennsylvania's 13th Congressional District in November of 2018. He was sworn in to office on January 3, 2019.
Voting Record
Caucuses 
Army Caucus
Auto Care Caucus
Bus Caucus
Dairy Caucus
GOP Doctors Caucus
Irish Caucus
Paper and Packing Caucus
Offices
Abbottstown Office
282 West King St., Abbottstown, PA 17301
Phone: (717) 357-6320
Altoona Office
5414 6th Avenue, Altoona, PA 16602
Phone: (814) 656-6081
Chambersburg Office
100 Lincoln Way East, Suite B, Chambersburg, PA 17201
Phone: (717) 753-6344
Somerset Office
451 Stoystown Road, Suite 102, Somerset, PA 15501
Phone: (814) 485-6020
Washington, DC Office
1221 Longworth HOB, Washington, DC 20515
Phone: (202) 225-2431
Contact
Email:
Web
Government Page, Campaign Site, Twitter, YouTube, Facebook, Wikipedia
Politics
Source: none
Campaign Finance
Voting Record
VoteSmart – National Key Votes & Ratings
Search
Wikipedia Entry
John Patrick Joyce[1] (born February 8, 1957)[2] is an American dermatologist and politician from the Commonwealth of Pennsylvania. He is the U.S. representative for Pennsylvania's 13th congressional district, serving since 2019. He is a member of the Republican Party.
Early life and education
Joyce was born and raised in Altoona, Pennsylvania. He graduated from Pennsylvania State University with his bachelor's degree and Temple University School of Medicine with his Doctor of Medicine. He completed his medical residency in internal medicine and dermatology at Johns Hopkins Hospital.[3][4]
U.S. House of Representatives
Elections
2018
In 2018, Joyce ran for the United States House of Representatives in Pennsylvania's 13th congressional district.[5] He won the Republican Party primary election against seven other candidates with 22% of the vote.[6] The district had previously been the 9th, represented by nine-term incumbent Bill Shuster, who announced his retirement in January 2018; he and his father, Bud, had represented this district for 46 years. Like its predecessor, it is heavily Republican. Donald Trump won the old 9th in 2016 with 69% of the vote, his strongest showing in the state.[7] He would have won the new 13th just as easily had it existed in 2016, with 71% of the vote.[8] With a Cook Partisan Voting Index of R+22, on paper it was Pennsylvania's most Republican district.
Joyce won the general election against Brent Ottaway with 70.5% of the vote.[9]
2020
Joyce was reelected on November 3, 2020, against Todd Rowley, with 73.5% of the vote.[10]
2022
Tenure
In December 2020, Joyce was one of 126 Republican members of the House of Representatives to sign an amicus brief in support of Texas v. Pennsylvania, a lawsuit filed at the United States Supreme Court contesting the results of the 2020 presidential election, in which Joe Biden defeated[11] incumbent Donald Trump. The Supreme Court declined to hear the case on the basis that Texas lacked standing under Article III of the Constitution to challenge the results of an election held by another state.[12][13][14]
Immigration
Joyce voted against the Fairness for High-Skilled Immigrants Act of 2019 which would amend the Immigration and Nationality Act to eliminate the per-country numerical limitation for employment-based immigrants, to increase the per-country numerical limitation for family-sponsored immigrants, and for other purposes.[15]
Joyce voted against the Further Consolidated Appropriations Act of 2020 which authorizes DHS to nearly double the available H-2B visas for the remainder of FY 2020.[16][17]
Joyce voted against Consolidated Appropriations Act (H.R. 1158) which effectively prohibits ICE from cooperating with Health and Human Services to detain or remove illegal alien sponsors of unaccompanied alien children (UACs).[18]
Committee assignments
Caucus memberships
Army Caucus[20]
Auto Care Caucus[21]
Bus Caucus[22]
Dairy Caucus
GOP Doctors Caucus[23]
Irish Caucus
Paper and Packing Caucus[24]
Electoral history
Pennsylvania's 13th congressional district, 2018

Party
Candidate
Votes
%
Republican
John Joyce
178,533
70.5
Democratic
Brent Ottaway
74,733
29.5
Total votes
253,266
100.0
Republican hold
References
External links
Issues
Source: Government page
Committees
In the 117th Congress, Congressman Joyce serves on the Energy and Commerce Committee and is a member of both the Health and the Oversight and Investigations Subcommittees. In 2020, Dr. Joyce served as a member of the China Task Force.
Legislation
Issues