Summary
Current Position: US Representative of PA District 14 since 2019
Affiliation: Republican
Former Position: State Delegate from 2015 – 2019
Featured Quote: 
ietnam Cambodian killing fields Iraq The rise of ISIS Afghanistan ? What's next? Listen
Featured Video: 
Guy Reschenthaler hopes more young people from both sides of the aisle come to Congress
News
WASHINGTON, D.C. – Today, Congressman Guy Reschenthaler (PA-14) voted for H.R. 4350, the National Defense Authorization Act (NDAA) for Fiscal Year 2022 (FY22). This bipartisan bill ensures our military is well-equipped to counter foreign threats, provides a 2.7 percent pay raise for our troops, and boosts total defense funding by nearly $25 billion over President Biden's budget request, a 5 percent increase from Fiscal Year 2021.
 "As a Navy veteran, I am deeply committed to supporting our national defense and our troops. These brave men and women make sacrifices every day to protect our freedoms at home and abroad, yet President Biden bowed to progressives and tried to cut defense funding even as our nation faces a rising China. Thankfully, this legislation will provide our servicemembers with critical equipment and training as well as pay raises so they can take care of their families, while also modernizing our military and enhancing oversight on President Biden's disastrous Afghanistan withdrawal," said Reschenthaler. "I am especially proud the FY22 NDAA also includes provisions I championed, such as preventing defense funding from flowing to EcoHealth Alliance, an organization that funneled American taxpayer dollars to the Wuhan Institute of Virology, combatting deadly fentanyl imports into the United States, and ensuring our servicemembers receive critical mental health care. I remain dedicated to prioritizing the needs of our military men and women and the security of our nation."
U.S. Rep. Guy Reschenthaler is among the many politicians, trucking industry advocates and community leaders opposed to a Pennsylvania Department of Transportation plan to charge tolls on nine interstate highway bridges in the state. He's right to oppose the idea, but his effort to deny federal funding to PennDOT should the plan be implemented was the wrong approach.
State transportation officials need constructive and innovative ideas to overcome a serious highway funding problem, not a threat of further funding limits from one of their own congressmen.
Twitter
About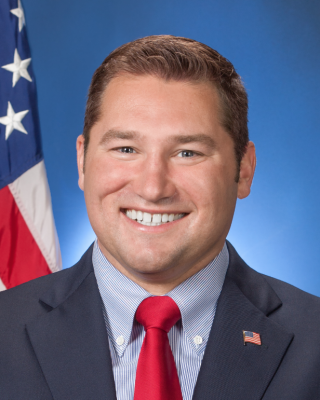 Source: Government page
Congressman Guy Reschenthaler was sworn into office for a second term on January 3, 2021 to represent Pennsylvania's 14th Congressional District including Washington, Fayette, Greene, and portions of Westmoreland Counties.
The son of former teachers, Guy was raised in southwestern Pennsylvania, graduated from Penn State, The Behrend College, and completed law school at Duquesne University.
After law school, Guy fulfilled a lifelong dream and joined the U.S. Navy Judge Advocate General Corps and volunteered for duty in Iraq.
Back home in southwestern Pennsylvania, Guy practiced law and developed experience running a small business as a partner in real estate brokerage and other real estate-related businesses, employing roughly a dozen employees.
In 2013, he was elected Magisterial District Judge, winning the nomination of both parties, and in 2015, he was elected to serve in Pennsylvania's State Senate representing portions of Allegheny and Washington County.
Guy currently serves on both the House Appropriations Committee and the House Committee on Rules. In addition to serving as the Elected Leadership Committee Representative for the Class of 116, Guy was selected by Republican Leader Kevin McCarthy to serve on the China Task Force.
Guy's priorities include limiting government and lowering taxes, reforming our criminal justice system, supporting our nation's veterans, combatting Communist China, and helping senior citizens. He is fighting for his constituents in southwestern Pennsylvania every day to create jobs and preserve every person's freedom and opportunity to achieve the American Dream.
Voting Record
Caucuses 
Aluminum Caucus
Animal Protection Caucus
Anti-Socialism Caucus
Baltic Caucus
Boating Caucus
Building Trades Caucus
Candy Caucus
Childhood Cancer Caucus
China Task Force
Congressional Study Group on Korea
Congressional Trademark Caucus
Coal Caucus
Critical Materials Caucus, Co-Chair
Dairy Caucus
Diabetes Caucus
Egypt Caucus
Freshman Working Group on Addiction
General Aviation Caucus
Heroin and Opioid Task Force
House Manufacturing Caucus
Mental Health Caucus
Military Mental Health Task Force, Co-Chair
Military Veterans Caucus
Paper and Packing Caucus
Postal Preservation Caucus
Primary Care Caucus
Pro-Life Caucus
Republican Israel Caucus
Steel Caucus
Suburban Caucus
Syria Caucus
Turkey Caucus
US-Japan Caucus
Values Action Team
Veterans' Education Caucus
Victims' Rights Caucus
Offices
409 Cannon House Office Building
Washington, DC 20515
Phone: (202) 225-2065
700 Pellis Road
Greensburg, PA 15601
Phone: (724) 219-4200
Washington, PA 15301
Phone: (724) 206-4800
Contact
Email:
Web
Government Page, Campaign Site, Twitter, YouTube, Facebook, Wikipedia
Issues
Source: Government page
Committees
House Committee on Appropriations

Energy and Water Development, and Related Agencies Subcommittee
State, Foreign Operations, and Related Programs

House Committee on Rules
Legislation
Learn more about legislation sponsored and co-sponsored by Representative Reschenthaler.