Summary
Current Position: US Representative of PA District 15 since 2009
Affiliation: Republican
Former Position: State Delegate from 2009 – 2019
Other Positions:  
Ranking Member, Subcommittee on General Farm Commodities and Risk Management- Committee on Agriculture
Featured Quote: 
Reliable broadband is essential to our communities and a 21st-century economy. @CongressmanGT introduces The Broadband for Rural America Act to address our country's digital divide. Link
Featured Video: 
Full interview with Glenn Thompson
Source: Government page
News
ROCK SPRINGS, Pa. — U.S. Rep. Glenn Thompson, the top Republican on the House Agriculture Committee, told Ag Progress Days attendees yesterday that work is progressing on ag legislation.
Struggling to be heard over a storm that drummed the pole building for about 20 minutes of the two-hour town hall meeting, Thompson said that supporting farmers remains a bipartisan cause despite Washington's reputation for interparty rancor.
"You're not going to read this in probably any newspaper. You're not going to see it in social media. You're not going to hear it in cable news," Thompson said. "It's sad, only because we're working hard and we're doing things together."
U.S. Reps. Glenn "G.T." Thompson, R-Centre, 15th Congressional District, and John Joyce, R-Blair, 13th Congressional District, spoke from the House floor shortly after 12:30 a.m. on Thursday in opposition to Pennsylvania's Electoral College votes being certified.
Democrat Joe Biden carried the commonwealth, receiving its 20 electoral votes, in the race against President Donald Trump.
Thompson accused Gov. Tom Wolf, Sec. of State Kathy Boockvar and the Supreme Court of Pennsylvania of creating laws during the vote counting process. The senior member of Pennsylvania's Republican House delegation claimed uneven application of the law, ballot curing, ignoring signature validation requirements, using unsecured drop boxes, accepting ballots beyond deadline and interfering with certified poll watchers' access took place.
Twitter
About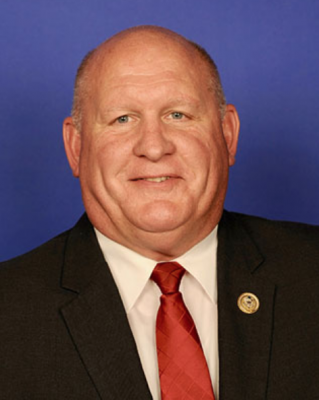 Source: Government page
A life-long resident of Howard Township, Centre County, Pa., Congressman Glenn 'GT' Thompson represents Pennsylvania's Fifteenth District in the U.S. House of Representatives.
An Eagle Scout and 30+ year veteran of the Juniata Valley Boy Scout Council, GT has served as Scoutmaster, Council executive board member, and Council president. He has enriched the lives of youth throughout Central Pennsylvania. Among just 2,000 presented since 1969, GT received the National Distinguished Eagle Scout Award in 2012.
GT is also a former member of the Bald Eagle Area School Board, past vice-chair of the Private Industry Council of the Central Corridor and a former Workforce Investment Board member. Because of these experiences, he was appointed to the House Committee on Education & Workforce in 2009. Rep. Thompson is also serving in his fifth term as Co-Chairman of the bipartisan Congressional Career and Technical Education Caucus. In the 115th Congress, Thompson introduced the Career and Technical Education for the 21st Century Act that passed the House and Senate unanimously and was signed into law by President Donald Trump.
A community leader and a volunteer firefighter with over three decades of service, GT is acutely aware of the challenges facing Pennsylvania communities. As Republican Leader of the Agriculture Committee a senior member of the Education & Labor Committee, GT is in a unique position to bring his expertise and knowledge to bear on the issues facing rural businesses, communities, and families, in order to improve the lives of the citizens of the Fifteenth District.
GT is a proud graduate of Penn State and Temple Universities, where he earned a B.S. and a Master of Education, respectively. He and his wife, Penny Ammerman-Thompson, have three adult sons, Parker, Logan, and Kale. GT and Penny reside in Howard Township, Pa.
Voting Record
Caucuses 
Past National Co-Chair, Congressional High School Art Competition
German-American Caucus (co-chair)
Congressional Natural Gas Caucus (co-chair)
Career and Technical Education Caucus (co-chair)
Congressional Constitution Caucus
Coal Caucus
House Baltic Caucus
Congressional Arts Caucus
Congressional Western Caucus
Veterinary Medicine Caucus
Republican Governance Group
Offices
Contact
Email:
Web
Government Page, Campaign Site, Twitter, YouTube, Facebook, Wikipedia
Politics
Source: none
Campaign Finance
Voting Record
VoteSmart – National Key Votes & Ratings
Search
Wikipedia Entry
Glenn William "GT" Thompson Jr. (born July 27, 1959) is an American politician serving as the U.S. representative for Pennsylvania's 15th congressional district since 2019. A member of the Republican Party, he was first elected to Congress in 2008 for the state's 5th congressional district; Thompson was redistricted to the 15th congressional district in the 2018 election by an order of the Supreme Court of Pennsylvania.[1] Since 2021, he serves as the ranking member of the House Agriculture Committee.
Early life, education and early career
Thompson was born in Bellefonte, Pennsylvania, grew up in Howard, Pennsylvania, and is the son of a Navy veteran. He holds a bachelor's degree in therapeutic recreation from Pennsylvania State University and dual master's degrees in therapeutic recreation and health science from Temple University.
Thompson worked for 28 years as a Therapist/Rehab Services Manager/Licensed Nursing Home Administrator in Lycoming County and served for six years as chairman of the Centre County Republican Committee. He has spent twenty-five years as a member or president of the Howard Volunteer Fire Company 14, and also actively volunteers as a fire fighter, emergency medical technician, and rescue technician.
U.S. House of Representatives
Tenure
When the 112th Congress convened January 5, 2011 to elect a Speaker of the United States House of Representatives, Thompson's vote was the 218th vote for John Boehner giving Boehner the majority needed to be named Speaker.
During the 112th Congress, Thompson became chairman of the House Agriculture Subcommittee on Forestry, Conservation, and Energy.
At the start of the 115th Congress, Thompson was named vice-chairman of the House Committee on Agriculture.[2] In December 2020, ahead of the 117th Congress, he was named ranking member of the agriculture committee.[3]
Government funding
In January 2018, Thompson voted for the Fiscal Year 2018 continuing resolution (CR), a stopgap funding bill to fund the federal government at then-current levels through February 16, 2018. It also provided for six-year funding for the Children's Health Insurance Program (CHIP). Thompson praised the measure for delaying what he called "three onerous and unpopular Obamacare taxes, which should be permanently repealed."[4]
Education
As a member of the U.S. House Education and Workforce Committee, Thompson has supported local control rather than federal mandates on issues like evaluating teachers, has opposed private school vouchers, and has voted to expand S-CHIP (children's health insurance). In August 2014, the National Education Association's political action committee endorsed Thompson for re-election.[5]
Food programs
In April 2018, Thompson supported new work and job training requirements for certain beneficiaries of the Supplemental Nutrition Assistance Program (SNAP), or food stamps. Thompson spoke up for the federal Special Supplemental Nutrition Program for Women, Infants, and Children (WIC), recalling that in the early 1980s, when he earned "less than $9,000," he and his wife had relied upon WIC, "a short-term intervention program designed to help pregnant women and their children meet healthy nutritional needs."[6]
Gun control
After the Stoneman Douglas High School shooting in 2018, Thompson told an audience of students that he does not agree with the idea of arming teachers and that he had voted to fund an improved national background check system. Thompson called for more "uniformed law enforcement in our schools."[7]
Veterans
In April 2017, Thompson and Julia Brownley (D-CA) introduced H.R. 2123, the Veterans E-Health and Telemedicine Support (VETS) Act of 2017. In September Thompson praised the Department of Veterans Affairs for proposing a rule that was similar to his bill and that would allow VA-credentialed health care providers to practice telemedicine across state lines.[8]
Thompson sponsored the Servicemembers' Telemedicine and E-Health Portability Act of 2011, which was enacted as part of the National Defense Authorization Act for Fiscal Year 2012. The bill expanded the use of telemedicine for active duty military, reserve and National Guard.[9]
Environment
On the subject of climate change, he has said, "I think humans contribute," but added that he was not sure of the degree to which they contribute.[10] In September 2017, Thompson and several other Members of Congress asked the Environmental Protection Agency (EPA) and U.S. Army Corps of Engineers to rescind the Waters of the United States rule, calling the regulation an overreach that expanded "EPA's authority far beyond its congressional mandate."[11]
Rural air service
In April 2018, Thompson fought efforts to eliminate federal funding for the Essential Air Service. Three airports in his district participate in it.[12]
Texas v. Pennsylvania
In December 2020, Thompson was one of 126 Republican members of the House of Representatives who signed an amicus brief in support of Texas v. Pennsylvania, a lawsuit filed at the United States Supreme Court contesting the results of the 2020 presidential election, in which Joe Biden prevailed[13] over incumbent Donald Trump. The Supreme Court declined to hear the case on the basis that Texas lacked standing under Article III of the Constitution to challenge the results of the election held by another state.[14][15][16]
Marriage rights
In July 2022 he voted against the Respect for Marriage Act,[17] which would codify the right to same-sex marriage, which was criticized by opponents for being just days before attending his own gay son's same-sex wedding.[18]
Committee assignments
Caucus leadership
Past National Co-chair, Congressional High School Art Competition[19]
German-American Caucus (co-chair)[20]
Congressional Natural Gas Caucus (co-chair)[21]
Career and Technical Education Caucus (co-chair)[22]
Elections
2008
Thompson was elected the U.S. representative from Pennsylvania's 5th congressional district defeating Democratic nominee Mark McCracken 58%–42%.[31]
2010
Thompson defeated Democratic nominee Michael Pipe 69%–28%.[32]
2012
Thompson defeated Democratic nominee Charles Dumas 63%–37%.[33]
2014
Thompson defeated Democratic nominee Kerith Strano Taylor 64%–36%.[34]
2016
Thompson again defeated Democratic nominee Kerith Strano Taylor 67%–33%.[35]
2018
After the Pennsylvania Supreme Court redrew the congressional district map in February 2018, Thompson's district was renumbered as the 15th. In May 2018, Susan Boser, a professor at Indiana University of Pennsylvania, won the Democratic nomination in Thompson's district, defeating Wade Johun in her party's primary.[36] In the general election, Thompson defeated Boser 68%–32%.
References
External links
Issues
Source: Government page
Committees
Committee on Agriculture

Subcommittee on General Farm Commodities and Risk Management (Ranking Member)
Subcommittee on Biotechnology, Horticulture, and Research
Subcommittee on Livestock and Foreign Agriculture

Committee on Education and Labor

Subcommittee on Civil Rights and Human Services
Subcommittee on Early Childhood, Elementary and Secondary Education
Legislation
Learn more about legislation sponsored and co-sponsored by Congressman Thompson.
Issues