Summary
Current Position: US Representative of PA District 3 since 2017
Affiliation: Democrat
Former Position: State Delegate from 1981 – 2016
Featured Quote: 
will proudly co-sponsor this #WealthTax bill that would raise an estimated $2.75 TRILLION over 10 years from just 75,000 families. We could use this for badly needed, job-creating #infrastructure repairs to our schools, housing, transit, roads and more!
Featured Video: 
Business, Politics & Public Policy: Interview with Rep. Dwight Evans (D-PA)
News
PITTSBURGH (Sept. 17, 2021) – Congressmen Mike Doyle (PA-18) and Dwight Evans (PA-3) joined with housing advocates today to outline major gains for affordable housing in the "Build Back Better" reconciliation bill that's pending in the House of Representatives, and called on the Senate to match that funding.
Doyle and Evans had proposed $63 billion for affordable housing in their Housing Is Essential plan in March. The House bill would provide more than $300 billion.
"The Build Back Better Act drafted by the House this week includes substantially more funding for affordable housing than we ever dared to hope," Doyle said. "This legislation would go a long way towards reversing the disinvestment we've seen in affordable housing in recent years. It would make housing affordable again for millions of American families. We're here today to call on the Senate to adopt these or comparable levels when it takes up the Build Back Better Act in the coming weeks."
Twitter
About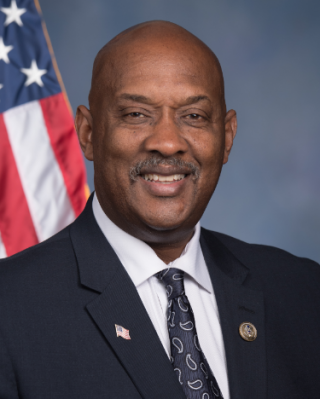 Source: Government page
Congressman Dwight Evans represents Pennsylvania's 3rd Congressional District, which includes Northwest and West Philadelphia and parts of North, South and Center City Philadelphia. He was first elected in a special election in November 2016. Before that, he served as a state representative for 36 years, and earned a reputation as a pragmatic leader who knows how to put public policy above politics and make ideas matter. He made history in 1990 when he became the first African-American chairman of the House Appropriations Committee, a position he held for two decades.
Throughout his public service career, Congressman Evans has worked tirelessly to expand and broaden access to economic and educational opportunities for all Philadelphians. He currently serves on the Ways and Means Committee and the Small Business Committee. In his first term, he had one of his bills passed and signed into law, a true accomplishment for a freshman in the minority party. That law is designed to reduce costs for small business owners who apply for a loan through the Small Business Administration. He also hosted a roundtable in Philadelphia on small business issues with then Ranking Member, now Chairwoman of the Small Business Committee, Nydia Velazquez.
A longtime resident of the West Oak Lane neighborhood, he is a graduate of Germantown High School, the Community College of Philadelphia and LaSalle University. Congressman Evans will keep working to rebuild Philadelphia, and America, block by block!
Voting Record
Caucuses 
Congressional Progressive Caucus
Medicare for All Caucus
Offices
Washington, DC 20515
Phone: (202) 225-4001
Fax:  (202) 225-5392  
Serving North, South & West Philadelphia
Philadelphia, PA 19138 
Philadelphia, PA 19138
Phone: (215) 276-0340
Fax: (215) 276-2939
Contact
Email:
Web
Government Page, Campaign Site, Twitter, Facebook, Wikipedia
Politics
Source: none
Campaign Finance
Voting Record
VoteSmart – National Key Votes & Ratings
Search
Wikipedia Entry
Dwight Evans (born May 16, 1954) is an American politician of the Democratic Party serving as a member of the United States House of Representatives from Pennsylvania's 3rd congressional district since 2019. The district, numbered as the 2nd district during his first term, includes most of Center City, West, and Northwest Philadelphia. He has stated that he has no middle initial.[1]
He defeated incumbent Chaka Fattah in the Democratic primary election, and won a special election on November 8, 2016, following Fattah's resignation from Congress after he faced corruption charges. He previously served in the Pennsylvania House of Representatives, representing the 203rd district located in Philadelphia County.
Early life and education
Evans grew up in the Germantown and West Oak Lane sections of Philadelphia[2] and is a graduate of the Community College of Philadelphia and La Salle University. After graduation, he became a teacher in the School District of Philadelphia and a community activist for the Urban League.
Early political career
Pennsylvania House of Representatives
Evans was first elected to office in 1980. The district, which encompasses West Oak Lane in Philadelphia, was heavily Democratic with a 95% African-American population.[2] As a result, he was reelected 12 more times against only nominal Republican opposition.
Evans was elected as the Democratic Chairman of the House Appropriations Committee in 1990[3] and served in that capacity until November 2010.
In 2010, the Philadelphia Tribune named Evans one of the 10 most influential African-Americans in the city.[4]
Unsuccessful elections
Prior to his election to Congress, Evans ran for higher office four times unsuccessfully. In 1986, he sought the Democratic nomination for Lieutenant Governor but finished third in the primary election to future Lieutenant Governor Mark Singel.[5]
In 1994, Evans became the first African American candidate to seek the office of Governor of Pennsylvania. In the Democratic primary election, Evans faced off with Lynn Yeakel and Lt. Governor Singel. He won endorsements from The Philadelphia Inquirer, Philadelphia Daily News, and Pittsburgh Post-Gazette. This time, Evans finished second in the primary with 22%.[6]
Evans made two runs for Mayor of Philadelphia. In 1999, in the race to succeed Ed Rendell, Evans finished fifth with 4.7% of the vote in a crowded primary won by John Street.[7] In 2007, despite comments by Governor Rendell that Evans was the "best qualified" for mayor,[8] he finished fifth again taking only 7.82% of the vote.[9]
U.S. House of Representatives
Elections
2016 special and general
In November 2015, Evans announced that he would run for Pennsylvania's 2nd congressional district in 2016 against Democratic incumbent Chaka Fattah.[10] In an upset, Evans beat Fattah for the Democratic nomination – the real contest in this heavily Democratic, black-majority district – on April 26, 2016. He won mainly by running up his margins in his Olney-Oak Lane stronghold.[11] Fattah resigned two months later amid a corruption scandal.
As a result, Evans ran in two elections on November 8, 2016 – a special election for the balance of Fattah's sixth term, and a regular election for a full two-year term. Evans won both elections and was sworn in on Monday, November 14, 2016. This led to Evans having more seniority than other new members who won the 2016 congressional election.[12] The district has been in Democratic hands without interruption since 1949, and has been represented by black congressmen since 1959.
2018
A court-ordered redistricting ahead of the 2018 elections renumbered Evans' district as the 3rd district. It lost its share of Montgomery County and was pushed slightly further into Philadelphia. Like its predecessor, it is heavily Democratic and majority black. Evans handily defeated Republican challenger Bryan Leib to win his second full term.
2020
Evans was reelected in 2020 with 91% of the vote, defeating Republican Michael Harvey.[13]
Tenure
In August 2017, following the aftermath of the 2017 Unite the Right rally in Charlottesville, Virginia, Evans and New York Representative Adriano Espaillat introduced legislation banning Confederate monuments on federal property.[14]
He is a member of the Congressional Progressive Caucus[15] and the Congressional Black Caucus.[16]
Issues
Crime
In September 2018, Evans voted against HR 6691, the Community Safety and Security Act of 2018. The bill would amend the definition of "crime of violence". Within the definition of "crime of violence" is fleeing a police officer in a vehicle or on foot.[17]
In 2021, he voted for the Bipartisan Background Checks Act[18] and the Enhanced Background Checks Act.[19][20]
In April 2022, Evans announced a $51 billion, seven-point plan to fight gun violence in Philadelphia and around the country.[21][22][23]The same month, Giffords PAC endorsed him for re-election.[24]
Environment
On September 24, 2018, Evans was rated 100% by the Clean Water Action group.[25] In 2021, he received 100% on the League of Conservation Voters' National Environmental Scorecard.[26][27]
Health care
Evans supports three public health option bills in Congress.[28][29][30][31]
Housing
In 2021, he announced a $63 billion "Housing Is Essential" plan with U.S. Reps. Matt Cartwright and Mike Doyle.[32][33]
Impeachment of Donald Trump
He was an early congressional supporter of impeaching President Donald Trump.[34]He voted for the 2019[35][36] and 2021[37][38] impeachment resolutions.
Infrastructure
He voted for President Joe Biden's infrastructure bill.[39][40] The legislation includes the $1 billion Reconnecting Communities initiative that he co-led.[41][42]
Ukraine
In 2022, the Russian government sanctioned Evans along with other congressional supporters of aid to Ukraine.[43][44][45]
Committee assignments
Caucus memberships
See also
References
External links
Issues
Source: Government page
Committees
Each member of Congress in the House of Representatives traditionally serves on at least two committees. I am a member of the House Ways and Means Committee, where I serve on the Subcommittees on Health, Oversight, and Worker and Family Support. I also serve on the House Small Business Committee, where I serve on the Subcommittee on Oversight, Investigations, and Regulations; as well as the Subcommittee on Economic Growth, Tax, and Capital Access.
To learn more about my work on the Ways & Means and Small Business Committee please visit the following:
Subcommittee on Worker and Family Support 
Subcommittee on Investigations, Oversight, and Regulations ​
Subcommittee on Economic Growth, Tax, and Capital Access
Legislation
Sponsored and Cosponsored