Summary
Current Position: US Representative of PA District 6 since 2019
Affiliation: Democrat
Featured Quote: 
What continues to be clear is that Southeastern Pennsylvania is well positioned to meet the anticipated future needs of defense and commercial shipping with a high-skilled labor force. In Congress, I will continue to advocate for these priorities and these jobs.
Featured Video: 
What Does Chrissy Houlahan Have to Say? | Truth Matters | Pod Save America | HBO
News
U.S. Rep. Chrissy Houlahan this week concluded a two-day Hurricane Ida aftermath survey where she crisscrossed the county, visiting the hardest hit areas. She met with homeowners in Oxford whose neighborhood was decimated by a tornado, resulting in nearly a dozen homes being uninhabitable; the Chief of Police in Downingtown whose station is under reconstruction due to storm damage; small business owners in Modena Borough calling for better upstream dam management; and local officials in Coatesville to discuss the federal disaster declaration issued last week.
"To the community members and small business owners who are still hurting from Hurricane Ida, I want you to know you aren't forgotten," said Houlahan. "The damage I saw to homes and businesses the past couple days left me speechless at times. We are a tight knit community, so it's incredibly difficult to see residents disrupted from their lives and livelihoods. What was truly heartening, though, was seeing the unity between federal, state, and local partners, non-profits, and others just stepping up to help their neighbors. Our recovery is only beginning, but I'm committed to our collaborative work for our community in the days, weeks, and months ahead."
Twitter
About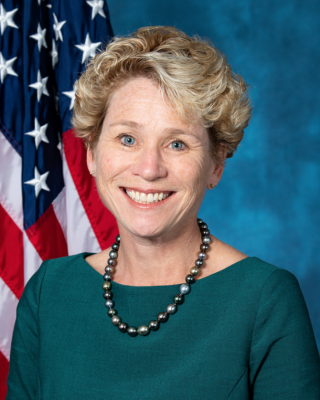 Source: Government page
Chrissy Houlahan's experiences helped shape her political vision of a great nation united by common values that leaves no one behind. She is committed to fighting for access to quality, affordable healthcare, common sense gun safety, government accountability and transparency, and working to build a strong, stable economy with good jobs and good benefits for everyone.
Chrissy is a leader driven by a spirit of service. She's a mom, a longtime resident of Southeastern Pennsylvania, and a first-time congressional representative heading to Washington to solve real problems for the people and communities of Pennsylvania.
Voting Record
Caucuses 
Servicewomen and Women Veterans Congressional Caucus: In Chrissy's first few months in Congress, she founded the first Congressional caucus to ever focus on issues facing women both during and following their military service. Chrissy's own experience in the Air Force informed her decision to form this bipartisan forum to address the issues facing the women who have served our nation in uniform. Chrissy, the Chair and Founder of the Servicewomen and Women Veterans Congressional Caucus, is joined by over 50 of her colleagues in this important work. For more information on the caucus, please click here.
Women in STEM Caucus: As an Air Force veteran and former engineer, Chrissy understands the challenges that women and other underrepresented groups face in many technical fields. She founded and serves as co-chair of the Women in STEM Caucus to help remove these obstacles for the benefit of both women and the country. Chrissy is joined by a bipartisan group of over 20 of her colleagues who share her commitment to creating a STEM workforce which reflects the full diversity of the United States. Listen to Chrissy talk about the launch of the caucus here. Find additional coverage here.
New Democrat Coalition: Chrissy serves as the Whip to this group of forward-thinking Democrats in the House of Representatives who are committed to pro-economic growth, pro-innovation, and fiscally responsible policies. She is on two task forces: Health Care and Future of Work. New Democrats are a solutions oriented coalition seeking to bridge the gap between left and right by challenging outmoded partisan approaches to governing. New Democrats believe the challenges ahead are too great for Members of Congress to refuse to cooperate purely out of partisanship.
Offices
Washington, DC Office
1218 Longworth HOB
Washington, DC 20515
Phone: (202) 225-4315
West Chester District Office
709 E. Gay Street, Suite 4
West Chester, PA 19380
Phone: (610) 883-5050
Reading District Office
815 Washington St, 2-48
Reading, PA 19601
Phone: (610) 295-0815 
Contact
Email:
Web
Government Page, Campaign Site, Twitter, Facebook, Wikipedia
Politics
Source: none
Campaign Finance
Voting Record
VoteSmart – National Key Votes & Ratings
Search
Wikipedia Entry
Christina Marie "Chrissy" Houlahan (/ˈhuːləhæn/ HOO-lə-hann; née Jampoler; born June 5, 1967)[1] is an American politician, engineer, and former United States Air Force officer. A member of the Democratic Party, she is the U.S. representative from Pennsylvania's 6th congressional district. The district includes almost all of Chester County, a suburban county west of Philadelphia, as well as the southern portion of Berks County including the city of Reading. She was first elected in 2018, defeating Republican Greg McCauley in the midterms.
Early life and education
Houlahan spent her childhood on various U.S. naval bases across the country, including on Oahu.[2][3] Her father, Andrew C. A. Jampoler, a naval aviator, was born in Poland, to a Jewish family, and left the country at age four to escape the Holocaust,[4][5][6] He became a historian and author.[7][8][9][10]
Houlahan, citing her idols as Indiana Jones and Sally Ride,[11] earned her bachelor's degree[12][13][14] in Engineering from Stanford University in 1989, on an AFROTC scholarship.[3] She then earned a master's degree in Technology and Policy from the Massachusetts Institute of Technology in 1994.[3][15]
Earlier career
Military service
After graduation from Stanford University, Houlahan spent three years on United States Air Force active duty at Hanscom Air Force Base in Bedford, Massachusetts. There, she served as a project manager working on air and space defense technologies.[3] She left active duty in 1991 for the Air Force Reserve, separating from the service in 2004 as a captain.
Private sector
After leaving active duty, Houlahan went to work for the start-up sportswear company AND1 as Chief Operating Officer. As part of the employee benefits program the company offered 40 paid hours of community service at a location of the employee's choosing. Houlahan dedicated her hours to working with girls and women in science, technology, engineering, and math (STEM).[3] Houlahan became Chief Operating Officer of B-Lab, a non-profit start-up, when AND1 was sold.[5]
Education career
Citing a need to experience the problems in the U.S. educational system first-hand, Houlahan entered the lifelong learning program at University of Pennsylvania where she re-took courses in the hard sciences. She enrolled in the Teach for America program and began working as an 11th-grade science teacher at Simon Gratz High School in Philadelphia.[16] She withdrew from the Teach for America program after one year and joined Springboard Collaborative, a Philadelphia-based nonprofit focusing on early childhood literacy in underserved populations nationwide. Houlahan served as both president and CFO/COO of Springboard Collaborative before leaving to focus on her political campaign.[5]
U.S. House of Representatives
Elections
2018
Houlahan has said that one of the experiences that motivated her to run for Congress was her organization of a bus trip to the Women's March in Washington, D.C., on January 21, 2017.[5] When asked why she chose to begin her political career by running for Congress and not a lower office, she said, "I don't have time for that. The stakes are too high, and I think I'm qualified."[17]
Houlahan expected to face two-term Republican incumbent Ryan Costello. However, Costello pulled out of the race after the Supreme Court of Pennsylvania threw out Pennsylvania's congressional map as an unconstitutional partisan Republican gerrymander.[18][19] While Costello was the only incumbent to retain his previous district number, it was made significantly more compact and bluer than its predecessor. It lost its heavily Republican western portion around Lebanon, which had only been connected to the rest of the district by way of a tendril through Berks County. Instead, it now took in almost all of Chester County (except for a sliver around Birmingham Township that was drawn into the neighboring 5th district), along with the more Democratic southern portion of Berks County, including Reading.[20]
Houlahan took the Democratic nomination unopposed and faced first-time candidate Greg McCauley in the general election.[21] On November 6, 2018, Houlahan easily defeated McCauley, garnering 58.8% of the vote over McCauley's 41.1%.[22] Houlahan was one of seven Pennsylvania women running for the U.S. House of Representatives in 2018,[23] and one of four Democratic women to win, along with Mary Gay Scanlon, Madeleine Dean and Susan Wild. She also joined two other female veterans in the House freshman class, former naval officers Elaine Luria and Mikie Sherrill.
Upon taking office in January 2019, Houlahan became the first Democrat to represent a Chester County-based district in 166 years. The county had historically been very Republican, but has trended much more Democratic in recent years.[24]
Houlahan ran on a platform that included healthcare, job creation, and campaign finance reform.[25] Other campaign issues she identified included education, family issues, and veteran's issues.[26] Houlahan had a strong record of campaign fundraising,[27] with donations totaling almost $5 million so far.[3][28] She was also endorsed by many organizations, including Emily's List,[29] Human Rights Campaign,[30] Giffords Law Center to Prevent Gun Violence,[31] Project 100,[32] Vote Vets,[33] the Service Employees International Union-PA (SEIU PA)[34] and several other local unions.[33]
2020
Houlahan ran for re-election in 2020 against Republican John Emmons.[35] She was reelected with over 56% of the vote.[36]
2022
Houlahan had publicly expressed interest in a 2022 campaign for the United States Senate, but on June 8, she announced she would run for reelection to the House.[37]
Tenure
Houlahan supports the government negotiating drug prices with the pharmaceutical companies and a public option, but opposes a single payer healthcare system.[38] She supports same-sex marriage, the Equality Act, and opposes President Trump's memorandum banning transgender individuals from the military.[39][40] In January 2019, she said she opposed withdrawing US troops from Syria.[41]
In 2022, Houlahan was one of 16 Democrats to vote against the Merger Filing Fee Modernization Act of 2022, an antitrust package that would crack down on corporations for anti-competitive behavior.[42][43]
Caucus memberships
Servicewomen and Female Veterans Caucus (Co-Chair)
Women in STEM Caucus
For Country Caucus
Honor and Civility Caucus
Congressional National Service Caucus
Veterans' Education Caucus
Sustainable Energy & Environment Coalition
Committee assignments
Electoral history
Pennsylvania's 6th congressional district, 2020[46]

Party
Candidate
Votes
%
Democratic
Chrissy Houlahan (incumbent)
226,440
56.05
Republican
John Emmons
177,526
43.95
Total votes
403,966
100.0
Democratic hold
Personal life
Houlahan lives in Devon, Pennsylvania, with her husband Bart, whom she met at Stanford and married in 1991. They put on hold their goal of running a foot race in every state before age 50 when she entered the race for U.S. Representative.[26] The couple has two adult daughters.[16]
See also
References
External links
Issues
Source: Government page
Committees
House Armed Services Committee: The House Armed Services Committee has jurisdiction over defense policy, ongoing military operations, the Department of Defense and the national security functions of the Department of Energy, as well as acquisition and industrial base policy.
House Foreign Affairs Committee: The House Foreign Affairs Committee has jurisdiction over U.S. foreign policy, the deployment and use of the U.S. Armed Forces, treaties and other international agreements, arms control and disarmament issues, peacekeeping, international sanctions enforcement, and multilateral organizations, among other issues. It has oversight responsibilities for the U.S. State Department, the U.S. Agency for International Development (USAID), and other agencies as their work pertains to U.S. foreign policy.
House Small Business Committee: The House Small Business Committee was established to protect and assist small businesses. As such, the Committee has jurisdiction over matters related to small business financial aid, regulatory flexibility, and paperwork reduction. Additionally, the House Small Business Committee has oversight and legislative authority over the Small Business Administration (SBA) and its programs.
Legislation
Sponsored and Cosponsored
Issues